Tips to Get the Most Range Out of Your F-150 Lighting This Winter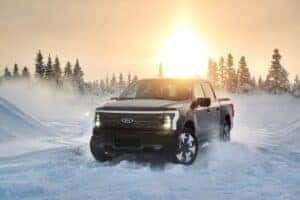 For many drivers, this winter will mark their first with Ford's all-electric pickup truck, the F-150 Lightning. This prompted the automaker to come up with some useful tips that help maximize the range of F-150 Lightning in the frigid season. Since driving range is a crucial factor for all-electric vehicles (especially in the cold), it's important to understand how temperature and weather impacts electric performance.
Ford noted that the F-150 Lightning has been tested in very cold conditions, including months of real-world winter driving in Alaska and Michigan's Upper Peninsula as well as in atmospheric test chambers. Because of this experimentation, it's known that in cold temperatures, batteries might offer limited energy and limited power (both, discharge and charging power output).
Fortunately, the truck's active thermal management system (liquid cooling or heating) for the battery pack partially solves the problem, but it's always worth knowing what to do to avoid a substantial decrease in range. Let's take a closer look at Ford's tips!
Ford starts with things that Ford F-150 Lightning users (and other EV drivers) can do before the next trip.
1. Park your F-150 Lightning in a garage whenever possible. The enclosed environment offers both protection from winter conditions and the possibility of plug outlets for charging.
2. Keep your F-150 Lightning plugged in when parked. Especially if you're at home or near a public charging station, keeping your truck charged will help you reliably reach any destination.
3. If you know you're got a long drive ahead, Ford recommends preconditioning your vehicle using departure times to warm the battery while plugged in via the FordPass app or your Lighting's center screen.
4. If equipped, use the heated seats and steering wheel as primary heat to reduce energy consumed by HVAC. It's important to save energy, as electric heating happens to be a pretty significant drain on the battery, especially over a long period of time.
5. When you charge your F-150 Lightning, remember to turn off the heater when possible, or lower the heat level enough to remain comfortable.
6. If your F-150 Lightning is covered with snow, brush all the snow off before driving to eliminate extra weight and drag.
7. Keep driving speeds moderate in cold temperatures as high speeds use more energy.
8. Make certain your tires are at the proper pressure.
With these tips, you'll be able to get the best performance and driving range from your F-150 Lightning even in the snowiest conditions. If you want to learn more about how to ensure optimal performance for your all-electric and hybrid Ford vehicles in any conditions, keep reading our blog at Winner Ford! Don't hesitate to contact us with any questions about Ford's latest electrified models, or visit our dealership in person today!