Introducing the Ford Family
We're Here For You
Winner Ford of Cherry Hill always puts customers first!
Don't take our word for it: Read our reviews and see what everyone is saying.
I highly recommend this dealership. I stopped in to take a look at a new truck about a week ago. I have purchased over 20 new vehicles over the last 20 or so years and the professionalism that I saw from my sales rep., Alex was top notch. I also really appreciated the fact that the sales manager, Mark, was no nonsense, took the time to talk to me directly, and did not make me do a bunch of back and forth with him through Alex. Great experience!
Overall, a great experience! Quick to schedule an appointment. Winner Ford dealt with a third party warranty company, where another local Ford dealer would not. Excellent customer experience. I will definitely use Winner Ford again for serving my F-150.
Overall great experience with the staff and car buying experience.
I have taken my vehicle in for service twice, and had a great experience both times. The staff were friendly, thorough and knowledgeable, price was fair, and work was completed in a timely manner.
Very nice experience from beginning to end. Winner Ford has been around for at least six, seven decades. They are a staple in our community and very well run establishment.
From sales to service it has always been a positive experience. I would highly recommend Winner Ford to anyone looking to purchase their next vehicle.
I had the most difficult scenario going into the dealership with negative equity plus a not so great credit score. I went in thinking there was nothing anyone can do and they ended up getting me into a brand new car with a very low APR. They kept me updated on everything and truly tried their hardest to get me out of my car and into a new one. Salesman Pete was very helpful and understanding and tried his hardest. I never write reviews but what they did was very much review worthy. Will be buying any future cars from them.
Michael P. Was a awesome salesman!!!
The best experience I've ever had at a dealership. The people there are very accommodating and are willing to work with you. I highly recommend. Great job Winner Ford!
although i wasn't able to get the car i wanted due to me being poor, the staff was excellent. anderson was extremely friendly and really went the extra mile to try and get me into a car. i wish i was able to do business with them. but definitely recommend if you want a truly stress free car buying experience. they have a lot of great cars in stock too.
Just bought this beautiful 2020 Ford Explorer from Winner Ford ! Anderson came through for us and was able to get this car and thought of us immediately. Quick service we left there in 2 hours. I would go back to Anderson again !!! Great guy and wonderful team at Winner Ford. Thank you so much
Very happy with work done. Yes, they are backed up, just like everyone else, but when service consultant, who was very courteous and honest, got on it, problem was fixed in less than 24 hours. Expensive, but then I didn't check around for estimates. It was an excellent experience.
I was completely satisfied with the service . I recieved at Winner Ford. They made me feel like a valued customer.
amazing service, Tim is always so helpful
I had a great experience purchasing my certified used SUV with Pete ! The employees were great, kind , and not overbearing. They thoroughly explained everything , and in addition Pete invited me to come back for an overview of how all the electrical features work. I did have a question after the purchase and without hesitation or attitude, they gladly gave me the answer(s) I needed. Overall from start to finish the purchase couldn't have been smoother . I absolutely will be purchasing from Winner Ford again and I highly recommend them to others.
Winner Ford is the best dealership around. Knowledgeable and friendly employees. It's the only place I go for service of my vehicle and the first place I go when looking for a new car.
Matt at service department and David Finance department are awsome.
First-class experience from beginning to end, from great salesman (Alex Barrone) through finance and everyone else I had contact with. After driving a 2008 Escape for 15 years, I needed a lot of transition support to a "modern" car, and I got it in spades. I've bought every Ford I've owned (at least five) at Winner and have never been disappointed.
Great people , great service
We have been in the market for a new Bronco for a few months and have probably been in contact with at least 10 dealers searching for the perfect option. When we visited Winner Ford the first time, they did not have any four door Broncos on the lot. They offered to take our contact information and told us they would call if they came across any four door Broncos. This was the only dealer who offered to do this and they followed through with their word! They called us in to look at a 2022 Outer Banks and we couldn't be happier with our purchase. We worked with Rick DiLauro, Mike, Mike, Jared and Mark who were all kind, attentive and pleasant to work with. Any questions we had were answered promptly, they truly went above and beyond during the purchasing process. We have purchased several Fords and have never had the experience we had at Winner Ford. Rick provided outstanding customer service from start to finish and beyond. He is very personable and you can tell he cares about his customers.
Michelle Hatzis and staff of Winner Ford in Cherry Hill answered all my questions and were very friendly. They always called me back to provide more information regarding my inquiries. Highly recommend you talk to Winner Ford before you make a new car purchase.
Very knowledgeable and friendly staff! I was immediately given Anderson with a test drive of the F150 V8....incredible!! Anderson worked with my number and was able to match it! I was incredible satisfied with the whole process! Would highly recommend Anderson and Winner Ford!!
Thank you Winner Ford for an excellent car buying experience! I was looking for a used car for my daughters first car. I made an appointment online which was super easy. Rick DiLauro was so welcoming and gave us ample time to check out the vehicle after our test drive without being pressured. We knew this was the car for my daughter and Rick helped us all the way. Rick made sure to have the car detailed and in tip top shape at delivery. We got to meet the general sales manager, Joe Hozalski, and they both treated us like family. If you're in the market for a car, stop at Winner Ford and ask for Rick! You won't be disappointed. Thanks Rick & Winner Ford.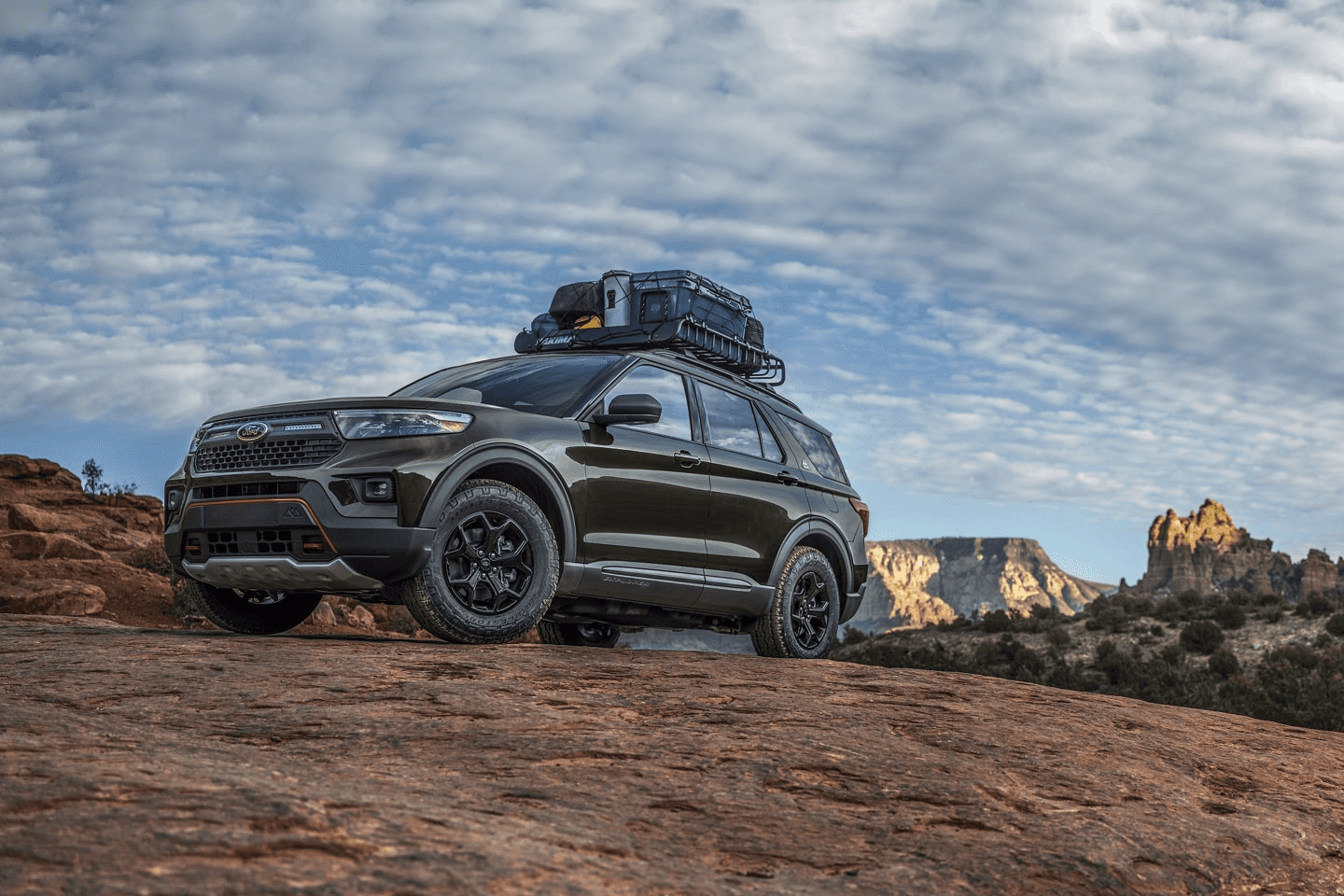 Pickup and Delivery: Making Servicing Easier at Winner Ford
When you know your vehicle needs to be serviced but you just can't find the time to bring it in, Winner Ford is on the job to help you! Now you don't need to worry about taking off work, rearranging your schedule, or finding someone to look after your kids. Instead, we'll come pick your vehicle up, bring it in for servicing, and drop it back off when we're done!

You can set your pickup and delivery for any place you like, whether it be your home, your apartment building, or even your place of work! Just continue to go about your day as normal, and as soon as our techs are finished with your car, we'll bring it right back to you. It's quick, easy, and simple, and takes all of the stress out of getting your car serviced. Just schedule your service appointment as usual and mention that you'd like a pickup and delivery service. You can even use your FordPass rewards to qualify for a complimentary pickup and delivery. Winner Ford in Cherry Hill is dedicated to supporting our customers, and this is what that looks like!

Welcome to Winner Ford of Cherry Hill
At Winner Ford, we don't just sell cars—we forge lifelong partnerships with our customers. Whenever you get behind the wheel of a new or pre-owned vehicle from our dealership, our passionate team members commit to finding you the best price while ensuring reliable performance, safety, and long-term value.

Our exceptional sales and service staff boast a wealth of experience and are prepared to assist you in discovering and maintaining your dream model. Whether you're looking for your next vehicle or need expert automotive services, Winner Ford in Cherry Hill, NJ, is dedicated to supporting you. Contact us online or visit our dealership today and let our team make your automotive dreams come true!
Contact Us
Open Today
Service:
7:30 AM-6 PM
Open Today
Sales:
9 AM-8 PM
Open Today
Parts:
8 AM-5 PM