Recent Ford BlueCruise Software Update Enhances Hands-Free Driving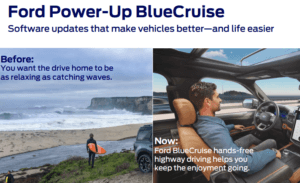 Ford BlueCruise is gaining users rapidly in North America with F-150, Mustang Mach-E, and other Ford vehicle customers recording 10.6 million miles of hands-free highway driving since the technology launched this time last year in 2021.
The software's evolution continues with Ford Power-Up software updates bringing BlueCruise to increasing numbers of customers who bought vehicles before the technology debuted. Nearly 15,000 2021 F-150 and Mustang Mach-E owners already installed the BlueCruise software updates, with another 35,000 preparing to.
The increasing rate of BlueCruise hands-free highway driving is improving as customers more than doubled mileage over last month alone – from 4.5 million miles to 10.6 million miles. This is a great example of Ford delivering innovations to customers nation-wide.
"We are rapidly increasing the number of digital vehicles on the road with new services that create 'always-on' customer relationships with great software experiences," said CEO Jim Farley. "BlueCruise is a great example as customers have driven more than 10 million miles hands-free in just one year since we launched the capability and delivered it with a Ford Power-Up software update."
BlueCruise wraps up the first year of Ford Power-Up software updates, showcasing the transformative ability to enhance many computer-controlled vehicle systems – which most other major automakers can't match – to ongoingly improve vehicles and deepen relationships with drivers. Ford is interpreting anonymized data insights that customers voluntarily share to tailor BlueCruise with refined visuals, sensing, and steering performance for more natural use.
Recent BlueCruise data further shows how customers are driving hands-free across highways, mostly between Dallas and Houston, Salt Lake City and Las Vegas, and Cape Canaveral and Ft. Lauderdale.
"Ford Power-Up technology is the gift that keeps giving. Ford BlueCruise software updates are a powerful example of this. One day you're driving normally and the next hands-free," said Farid Abdulhadi, program manager, Ford Power-Up Technology. "Ford is helping lead the mainstream adoption of advanced software update capability, similar to how smartphones changed the world of flip phones."
The BlueCruise updates showcase a slew of improved features and functions – including Mustang Mach-E games, EV charging and driving upgrades as well as F-150 productivity features – Ford has delivered in the first year since launching the technology.
Keep up to date with all of Ford's innovations at Winner Ford in Cherry Hill! If you have any questions or concerns, don't hesitate to contact us today.