New 2023 Ford Ranger Safety Features: Copilot 360 & More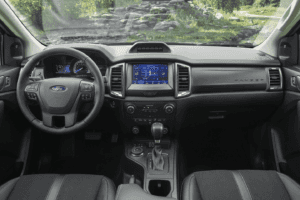 Safety is at the heart of Ford's dedication to serving you. Following inspections with the Insurance Institute for Highway Safety, the 2023 Ford Ranger has achieved a majority rating of "good", the IIHS's top rating. Ford's engineers are always at work, creating cutting edge features to enhance the safety of your vehicle. Here is a brief overview of what the latest Ford Ranger offers you.
Automatically Turn Off Your High Beams
We all know the frustration of being blinded on the highway. Part of Ford's Co-pilot 360 Technology is their automatic high beam setting. When this setting is activated, your Ranger's system reads data and visuals received from a windshield mounted camera and sensors to detect oncoming traffic. The camera and sensors activate once you hit speeds above 25 mph. If the camera detects oncoming traffic, your vehicle will automatically switch your high beams off, preventing possible accidents due to the distraction of the bright lights on the road. Once there is no oncoming traffic, your vehicle will automatically switch your high beams back on.
Avoid Being Blindsided with BLIS
Another feature that Ford has included in your new 2023 Ranger is their Blind Spot Information System (BLIS).
Ford's BLIS takes it a step further. Vehicles equipped with BLIS use radar sensors on both the sides and the rear of your vehicle to detect any objects that might be in the way. Should BLIS pick up on something in any of those zones, the system will flash a light and emit an alert sound. Newer versions of BLIS incorporated into vehicles will also tell you from which direction an object is coming from, if it's behind you.
Avoid Dangerous Drifting With Lane-Keeping Assistance
Everyone's been a victim of distracted or sleepy driving. It takes just one moment–and you start drifting into the other lane, the shoulder, or oncoming traffic. Ford's Lane-Keeping System helps prevent accidental drifting, saving you from worrying about those late night trips home after a long day at work, or the kids making a mess in the back seat.
Like the Auto High Beam Lights feature, the Lane-Keeping System utilizes the windshield mounted camera and sensors to track the position of the lane in front of you. You have two settings you can enable. Should you begin to drift, the Alert mode will send small vibrations through your steering wheel, mimicking drifting into a rumble strip. The Air mode will apply gentle torque to your steering wheel to help guide you back into your lane. You can set both modes to be active, or only whichever one works best for you.
The Driver Alert system will send a message to your Ranger's message center if it detects frequent drifting, suggesting you pull over and take a break–perfect if you're a victim of sleepy driving.
Safety for everyone in the vehicle is the heart of every Ford model. For example, each vehicle undergoes strict testing to ensure only the highest quality safety features are implemented. Interested in learning more about Ford Ranger safety features, or about all of Ford's options for safety? Winner Ford has you covered– contact us online with any questions or stop by our dealership in Cherry Hill and have a chat with one of our team members. We'll go over everything on your wish list and address any concerns to make sure you find the best fit for you, your family, and your lifestyle.