New 2022 Ford GT LM Honors The Company's Le Mans-Winning Legacy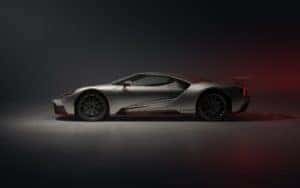 Celebrating the U.S. 's only Le Mans-winning supercar that includes wins in 2016 and the historic 1-2-3 podium sweep in 1966, the 2022 Ford GT LM Edition honors the Ford GT's worldwide race-winning victory.
"With innovative materials, design and engineering, the Ford GT is unlike any other production supercar," said Mark Rushbrook, global director, Ford Performance Motorsports. "As we close this chapter of the road-going Ford GT, the GT LM Edition gave us a chance to inject even more heart and soul from a podium-finishing race car, furthering the tribute to our 2016 Le Mans win."
With the vehicle's carbon fiber build carefully lacquered in Liquid Silver exterior paint, the unique Ford GT LM is distinctly finished in either a red or blue theme throughout, emphasizing the red and blue race livery of the Le Mans winning No. 68 Ford GT.
For a personalized appearance, customers can choose from exposed red or blue tinted carbon fiber that shows off the lower aerodynamics of the supercar. Exposed gloss carbon fiber 20-inch wheels with signature red or blue inner-barrel accents, plus titanium lug nuts and Brembo brake calipers lacquered in black to further stylize this incredible vehicle.
The Ford GT LM Edition's inner cabin presents drivers with unique features, like the Alcantara-laden carbon fiber seats with a matching red or blue driver's seat, Ebony passenger seat with stylized stitching that matches the driver's seat color, as well as the engine start button. The instrument panel presents you with refined Ebony leather and Alcantara, while pillars and headliner are wrapped in Ebony Alcantara. Carbon fiber carries into the cabin, appearing on the console, vent registers and lower A-pillars with a matte finish.
Making the Ford GT LM Edition a special final tribute, the Ford Performance team looked for ways to embed the Le Mans podium-finishing spirit into each road car.
The result: the team located the third-place 2016 Ford GT (No. 69) racecar's engine that was disassembled and shelved after the race, ground down the crankshaft into a powder, and developed a unique bespoke alloy used to 3D print the instrument panel badge for each of the 20 special-edition supercars.
Keep up with all of Ford's unique vehicle releases and history-spanning designs here at Winner Ford! If you have any questions about the 2022 Ford GT LM Edition, or you just want to set up a test drive with any of our great sporty Fords, don't hesitate to contact us today!