Ford's Mustang: The Top-Selling Sports Car Globally in Last Decade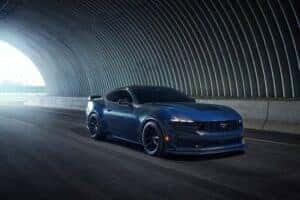 Ford just revealed some great news: the Mustang has secured its position as the world's best-selling sports car over the last 10 years combined! This achievement is quite impressive, and it's thanks to America's love for this iconic pony car that the vehicle is able to soar to such heights.
Ford has made continuous investments in the Mustang, pushing it to new heights of popularity among sports car enthusiasts all around the globe. While the Mustang is sold in markets all over the world, it is clear that the United States remains its biggest fanbase, representing 78% of all Mustang sales worldwide.
But the Mustang's popularity is not limited to the US alone. In fact, sales have been skyrocketing across the pond as well. In 2022 alone, we saw an increase of 17% in Germany, 14.4% in Britain, 14.9% in Switzerland, and 7.4% in the Middle East.
The release of the seventh-generation Mustang in over 100 markets around the world this summer is highly anticipated. With its fresh redesign and updated interior and technology features, we're confident that this new model will be even more beloved by Mustang enthusiasts.
As we approach the 60th anniversary of the Mustang nameplate, we're excited to introduce the 2024 model with both a 2.3-liter EcoBoost engine and a 5.0-liter V8, offering up to 500 hp (373 kW/507 PS) to customers. This new model will also come with special features that appeal to enthusiasts, such as Remote Rev, which allows owners to blip the throttle from outside the car using the key fob, and an electronic drift brake for initiating slides.
Jim Farley, Ford's executive vice president and president of global markets, attributes the Mustang's success to its affordability, performance capabilities, and, most importantly, its iconic design. The Mustang is more than just a sports car, it's an American icon that represents freedom, passion, and the thrill of the open road.
The Ford Mustang's ongoing success as the world's top-selling sports car in the last decade is a testament to its enduring legacy and iconic status. With its cutting-edge technology, powerful performance, and stylish design, the Mustang continues to captivate automotive enthusiasts around the world. At Haldeman in Cherry Hill, we're proud to help customers access the world's most popular sports car straight from our dealership. Feel free to contact us online to learn more about the new Ford Mustang, to schedule a test drive, or if you have any questions!