Ford to Increase Production of 2023 Mustang Mach-E, Lowering Prices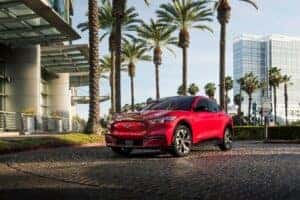 Ford is ramping up production of the Mustang Mach-E, driven by its new EV supply chain and part of its Ford+ Plan to cut customer wait times and reduce prices. The increased production is intended to enhance the value of its EVs for customers, making the Mustang Mach-E a more competitive and accessible electric SUV. With a full lineup of EVs including a truck, SUV, and van, and secured battery and raw materials, Ford aims to scale production of all models this year.
The Mustang Mach-E offers a thrilling 0-60 mph acceleration and a 300+ mile range with zero emissions. Its BlueCruise hands-free driving system is available on more than 130,000 miles of highway, and can be updated through Ford's Power-Up software updates. The vehicle also benefits from access to over 79,000 charging plugs through the BlueOval Charge Network, North America's largest public charging network.
With two-thirds of Mustang Mach-E buyers coming from competing brands, the vehicle has been successful in attracting new customers to the brand. It was the No. 3 EV model in the U.S. in 2022, and Ford's aim is to keep it competitive in the rapidly changing market and solidify its position as the No. 2 U.S. EV manufacturer.
"We are not going to cede ground to anyone. We are producing more EVs to reduce customer wait times, offering competitive pricing and working to create an ownership experience that is second to none," said Marin Gjaja, Chief Customer Officer, Ford Model e. "Our customers are at the center of everything we do – as we continue to build thrilling and exciting electric vehicles, we will continue to push the boundaries to make EVs more accessible for everybody."
Customers who have already ordered a Mustang Mach-E and are waiting for delivery will automatically receive the new, lower price. For those who have already taken delivery of their vehicle after January 1, 2023, Ford will reach out directly.
"Part of our mission at Ford is to treat customers like family," said Gjaja. "We want our customers to know they made the right decision by choosing a Mustang Mach-E, and we'll continue to play a proactive role in doing the right thing for those joining the Ford family."
In addition to the adjusted pricing, Ford Credit is offering special rates as low as 5.34% for Mustang Mach-E vehicles ordered between January 30 and April 3, 2023.
Stay tuned to our blog at Winner Ford for all the newest information about Ford's innovative and growing lineup of all-electric vehicles! To learn more about the new Mustang Mach-E or other all-electric models like the 2023 F-150 Lightning, contact us for more information today!