Ford Sponsors Teams at the 2023 Rebelle Rally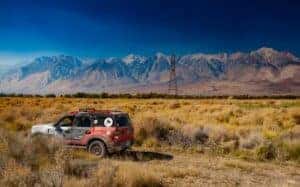 Starting in mid-October and spanning the rugged terrain of Nevada and California, this year's Rebelle Rally is fast approaching, and it's Ford's first year as an official sponsor of the event. The automaker is sponsoring five different teams of competitors this year for the grueling competition as they try to continue the success of the Bronco and the Bronco Sport, as well as putting the all-electric Mustang Mach-E Rally on the map.
The Rebelle Rally is a groundbreaking event for female drivers and off-road enthusiasts. It's the first women's off-road navigation rally raid in the U.S., and it's a hardcore challenge even for the most experienced competitors, showing off not just the qualities of the vehicle entries, but also the driving and navigational skills of the drivers, who are not allowed to use phones or GPS.
A driver, a navigator, and a vehicle make up each team– no support crew is allowed for the Rebelle Rally. The competitors camp at night as they make their way along the course, which stretches for approximately 1,500 miles. On October 12th of this year, the teams will set out from Mammoth Mountain and make their way to the Imperial Sand Dunes in Southern California, finishing the event on October 21st.
Ford's five teams this year are filled out by incredibly accomplished off-roaders of all stripes. Driving the Bronco Raptor will be multi-time Baja 1000 class champion Shelby Hall and five-time Rebelle Rally Competitor Rori Lewis. Another Bronco Raptor will be manned by Rebelle U instructor Laura Wanlass and previous Rebelle competitor Maria Guitar. Jessica Moore and Melissa Clarke, both Bronco Off-Roadeo trail guides, will drive a Bronco Sport, and 2022 Rebelle Rally Cross rookies Karisa Haydon and Trista Smith will race in a Bronco WildTrak. Finally, adding the Mustang Mach-E Rally to the event will be previous Rebelle Rally winner Kaleigh Miller and King of the Hammers groundbreaker Bailey Campbell.
With this lineup of vehicles and the impressive backgrounds of Ford's team members, the 2023 Rebelle Rally is sure to be an event that you won't want to miss. To stay up to date on all of the latest Ford news, including updates like this one, make sure to continue reading our blog here at Winner Ford in Cherry Hill, NJ!