Ford Pro Introduces End-to-End Charging Solution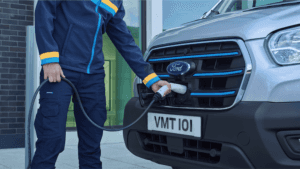 The 2022 Ford E-Transit has just started to roll off the line in Europe, and is already making a splash. To help make the integration of this groundbreaking electric vehicle easier and smoother for business owners, Ford Pro is launching an integrated charging solution that will help fleet managers and business owners to identify the best fleet charging strategies, install charging infrastructure, and overall optimize the charging process.
"Ford Pro Charging offers fleets a single, integrated solution covering the entire charging process, delivered by a partner they can trust," said Iza Lozowska, European manager, Ford Pro Charging. "We will work hand-in-hand with them to future‑proof their business by finding the right charging strategy, making the switch to electric vehicles as simple as possible."
Ford Pro Charging is designed to integrate with other Ford Pro solutions in order to maximize the efficiency and productivity of an electric fleet. The shift to electric vehicles can be difficult to coordinate and adjust to, which is why Ford Pro Charging's consultants are working with customers to identify the best charging solution for their business. End-to-end, customized solutions such as hardware installation and management software, as well as simplified billing and administration from the Ford Pro Charging software can help to support fleet managers, drivers, and business owners.
Commercial fleets are facing more and more pressure to go electric, from corporate sustainability objectives to customers valuing environmentally-conscious businesses. With Ford Pro Charging helping to clear the away hurdles, the benefits of electrification can be more accessible for companies everywhere. Situations such as drivers who need to take their vehicles home after shifts or the necessity of public charging become easier to navigate with the support of Ford Pro Charging. Fleets of any size and in any industry can benefit from this case-by-case attention, leading to electric fleets everywhere that are more streamlined and efficient than ever.