Ford Pro Debuts New 2023 Off-Road Transit Trail Van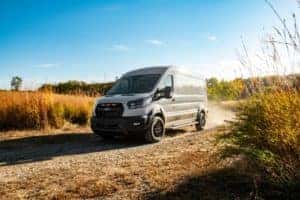 For over 60 years, Ford has provided drivers with vans, trucks, and chassis designed for supporting life on and off the road. Ford's commercial vehicle company, Ford Pro, revealed this week that the off-road performance vehicle it's called an "adventure van" is getting a new model added to its versatile Transit lineup in the United States. Importantly, the new expansion of Ford's life-on-the-road models coincides with the rising popularity of rugged and comfortable off-road vehicles in general.
"No matter the task at hand – delivering packages or enjoying life off the grid – customers can rely on their Transit to get the job done," said Ted Cannis, Ford Pro CEO. "Our decades of experience in the motorhome industry and insights from the van-life community helped us design a vehicle that makes it easier for adventure seekers to start their next journey."
The 2023 Ford Transit Trail Van arrives standard with smart all-wheel drive and engaging features, including normal, eco, mud/ruts, tow/haul and slippery performance drive modes. Additionally, a heavy-duty trailer package gives the Transit Trail Van a boosted 6,500-pound towing capacity.
Technology and entertaining features offer push-button start functionality, blind spot assist, adaptive cruise control, and Ford's SYNC 4 system with convenient over-the-air software updates. The system comes with a 12-inch touchscreen, a high-resolution camera, USB outlets, and more.
As a new vehicle, the 2023 Ford Transit Trail Van will officially release this spring, starting at just under $66,000. That's approximately $15,000 over a base passenger Transit van and is due to giving the van impressive performance capabilities. The vehicle will be available in three cargo van configurations, including medium- and high-roof models and a high-roof, extended-length version.
The van will be built at Ford's Kansas City Assembly Plant in Missouri and will not come standard with a living or sleeping space. However, Transit Trail owners will be able to use Ford Pro's network of upfitters and interior designers and installers.
To keep up with all of Ford's new off-road trucks, vans, and SUVs, keep reading at Winner Ford! For more information on any of our rugged pickup trucks or crossovers, or to schedule an appointment today, don't hesitate to contact our dealership in Cherry Hill!