Ford is the Top U.S. Automaker with Largest Hourly Workforce & Exports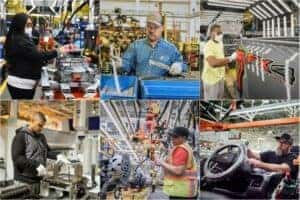 Ford recently announced that, for the fifth year in a row, the automaker has once again emerged as the indisputable leader in U.S. auto production volume, exports, and U.S. hourly autoworker employment. As Winner Ford in Cherry Hill, NJ, we are thrilled to be associated with a company that has continually proven its dedication to its employees and the American market.
According to independent analytics firm S&P Global Mobility's 2022 data, Ford's estimated 57,000 manufacturing workers in the U.S. assembled nearly 80% of the vehicles sold by the automaker in the U.S. In addition, Ford has exported 260,000 U.S.-assembled vehicles, including popular models like the F-150, Explorer, and Mustang, to other countries – 65,000 more than the next closest competitor.
As proud members of the Ford family, our dealership's team in Cherry Hill is excited to be part of a company committed to investing in American workers. Ford CEO Jim Farley has reiterated that the company is different from others in the industry and will continue to find ways to be lean and competitive while investing in its home market.
It's not just the company's commitment to American workers that sets it apart; Ford also assembles more than 1.8 million vehicles in the U.S., which is 130,000 more than the nearest auto manufacturer. The F-Series pickup franchise, a staple in the American market, is exclusively built in Michigan, Missouri, Kentucky, and Ohio. The Explorer SUV is built in Illinois, and the Escape SUV is assembled in Kentucky.
Ford's dedication to the United States and its workers has not gone unnoticed. In fact, Ford Executive Chair and great-grandson of the company founder, Bill Ford, believes that Ford is the most American of all car companies. He stated that "it is because of our belief in our workforce and in America that we build more vehicles and have more hourly employees here than other companies. As we pivot to an EV future, we are proud to continue to invest in America."
At Haldeman in Cherry Hill, we are proud to be associated with a company that is dedicated to producing quality vehicles in America, providing employment opportunities to American workers, and exporting American-made vehicles to other markets. Ford's commitment to investing in the American market and its workforce is what sets it apart from other automakers. Keep reading our blog for the latest info about Ford's commitment to U.S. drivers and workers!