Ford Invests In New All-Electric Vehicles For Police Fleets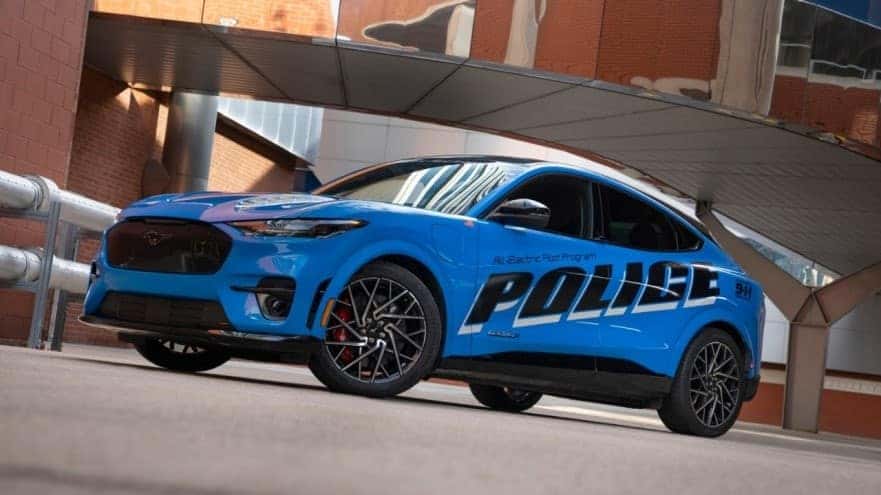 The Ford Motor Company is enhancing vehicles for police forces across the United States. As part of Ford's $30 billion investment in all-electric vehicle research through 2025, Ford is exploring how to best build law enforcement vehicles for the future.

To show how all-electric vehicles aren't nearly as weak as older generations and can dutifully withstand harsh police duty cycles, Ford is submitting an all-electric law enforcement pilot vehicle based on the 2021 Mustang Mach-E SUV. The prototype will be tested as part of the Michigan State Police 2022 Model Year Police Evaluation on Sept. 18 and 20.

Ford will use testing the prototype as a benchmark as the company explores purpose-built electric police vehicles in the years to come. Police demand for all-electric vehicles continues to grow worldwide, and just last week Ford introduced a Mustang Mach-E police concept car in the United Kingdom that has law enforcement agencies excited about the prospect of future adoption.

For police departments purchasing all-electric Mustang Mach-Es to use for situations where civilian vehicles are more appropriate, Ford created a police modifier bulletin that offers an overview of the electrical system the 2021 Mustang Mach-E uses and offers suggestions on which model to choose. Additionally, the bulletin gives advice on installing aftermarket accessories including auxiliary lighting, radios, and other equipment.

Michigan's State Police force is one of two law enforcement agencies that test new models every year and publish the results so other agencies in the United States can understand whether the tested vehicles are appropriate for their own missions. On first-test days, vehicles are evaluated for their acceleration, top speed, and braking. The second day for testing is focused on vehicle dynamics testing to show each vehicle's high-speed pursuit or emergency response handling traits.

"As Ford continues to democratize electric vehicle technology by making it available on affordable, everyday vehicles like the F-150 Lightning pickup truck and E-Transit cargo van, there is significant interest from law enforcement agencies across the country who are exploring how they can integrate electric vehicles into their fleets to improve total cost of ownership and reduce vehicle emissions," said Greg Ebel, Ford police brand marketing manager. "Our all-electric police pilot program will help to show that electric vehicles can deliver the performance, capability and productivity law enforcement agencies need."

In addition to the new Mach-E pilot vehicle, Ford will include all of its pursuit-rated police vehicles for rigorous testing. This includes a new F-150 Police Responder and the Interceptor Utility Hybrid, the only pursuit-tested law enforcement vehicle with a hybrid engine that comes standard.

While Ford has years of research ahead of it for developing and testing its all-electric police vehicles, it is sure to be just the beginning of their real-world testing for cutting-edge technology. As a company dedicated to continuing its legacy of innovative automotive leadership, further advancements in using all-electric vehicles are already on the horizon.

To get your hands on an iconic Ford vehicle at Winner Ford in Cherry Hill, NJ, click here to browse our currently available inventory. Be sure to contact us online, by phone, or in person today for a test drive!

Source: blog