Ford F-Series is Best-Seller for 46 Straight Years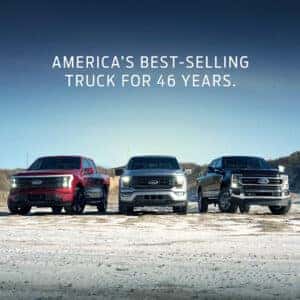 From the classic appeal of the F-150 to the futuristic power of the F-150 Lightning, Ford F-Series trucks have an impressive history as some of the most popular and iconic American trucks out there. That history has just been reaffirmed, as the F-Series celebrates 46 consecutive years of being the best-selling truck in the United States.
Over 640,000 F-Series trucks were sold in 2022. During the entire course of the last year, at least one F-Series Truck was sold every 49 seconds on average, including the Ford F-150, the F-550 chassis cab, the all-electric F-150 Lightning, and many other F-Series trucks. Lined up bumper to bumper, all of the Ford F-Series trucks that were sold last year would stretch nearly 2,400 miles, further than the driving distance from Los Angeles to Detroit.
"The Ford truck team's ability to anticipate customer needs, continuously innovate, and provide best-in-class levels of capability and performance has helped make F-Series the sales leader time and time again," said Kumar Galhotra, president, Ford Blue. "We're honored and humbled that our customers have helped us achieve this milestone for more than four decades."
2023 marks the 75th anniversary of the F-Series, and the celebrations of this milestone will include not only appreciating the truck's decades of best-selling popularity, but looking forward to the future. In the coming years, Innovation and industry-leading technology will continue to set the tone, with vehicles such as the all-electric F-150 Lightning that quickly became the best-selling EV pickup truck on the market, and the all-new F-Series Super Duty, which has already racked up an amazing 150,000 orders and will begin deliveries in early 2023.
With options to fit every need and the staying power to stay on top for over 46 years, the Ford F-Series will only continue to improve with time. If you're interested in any of this year's F-Series trucks, place a reservation with us at Winner Ford in Cherry Hill to get your Ford exactly the way you want it!