Ford F-150 Lightning Goes Global, Heads to Norway in 2024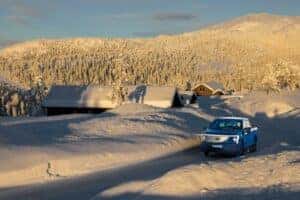 Exciting news from Ford! The all-electric Ford F-150 Lightning pickup truck is making a splash in Norway, the world's leading EV market, marking its first global debut. The announcement comes as a response to the "overwhelming public demand" from Norwegian customers, who have been eagerly anticipating the arrival of this groundbreaking vehicle.
The F-150 Lightning Lariat Launch Edition model will be available in 2024, exclusively in the Super Crew Cab body style with a striking Antimatter Blue metallic body color. Norwegian customers can apply to purchase a limited number of these special edition vehicles, which come equipped with a 98-kilowatt-hour Standard Range battery pack. While the WLTP range rating has not yet been announced, the same model offers an impressive EPA-estimated range of 240 miles (386 kilometers) in the US.
Like its American counterpart, the F-150 Lightning Lariat in Norway features a dual-motor AWD powertrain rated at 452 horsepower (337 kilowatts) and 775 pound-feet (1,050 Newton-meters) of torque. However, the 131-kWh Extended Range battery option available in the US has not been mentioned.
The F-150 Lightning will be sold through Ford's authorized dealer network in Norway, which
comprises more than 70 specialized Ford EV dealers, offering full EV infrastructure and capability to serve every F-150 Lightning, Mustang Mach-E, and E-Transit customer.
The F-150 Lightning will be available for delivery to Norwegian customers starting next year, with prices starting at around $111,500 (1,183,000 Norwegian crowns). In the US, the F-150 Lightning Lariat with the Standard Range battery starts at $77,869 according to Ford's US configurator.
Ford aims to achieve zero emissions for all vehicle sales in Europe by 2035 and has already announced its plan to nearly double production capacity of F-150 Lightning to 150,000 vehicles per year at the Rouge Electric Vehicle Center in Dearborn, Michigan, to keep up with growing customer demand.
Ford's commitment to innovation and sustainability is clear, and this groundbreaking vehicle represents the pinnacle of their efforts. At Haldeman in Cherry Hill, we can't wait for our customers to experience the latest F-150 Lightning's cutting-edge features and superior performance for themselves. We are proud to be part of the Ford family, and we will continue to support their mission to build a better future for all. Feel free to contact us online to learn more about the new F-150 Lightning, to schedule a test drive, or if you have any questions!