Ford Invests in Canadian Production Facility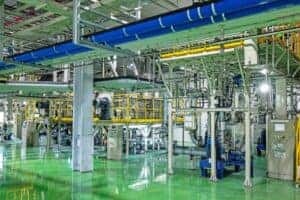 As electric vehicles continue to become commonplace on American roads, Ford is putting more and more efforts towards their production. The automaker, along with companies SK On and EcoProBM, recently announced an investment of C$1.2 billion that will go towards a cathode manufacturing facility in Canada.
"Ford has been serving customers in Canada for 119 years, longer than any other automaker, and we're excited to invest in this new facility to create a vertically integrated, closed-loop battery manufacturing supply chain in North America designed to help make electric vehicles more accessible for millions of people over time," said Bev Goodman, president and CEO, Ford of Canada. "We're excited for the opportunity for our first-ever investment in Québec with a new facility that will help shape the EV ecosystem there."
The new plant in Québec will provide vital components of EV batteries. Ford has ambitious plans to localize battery raw material processing in the regions where its electric vehicles are produced, and the Québec location, expected to begin production in the first half of 2026, is a part of this process. These cathode active materials (CAM) will target greater performance levels and improved EV range compared to existing products. The facility is expected to produce up to 45,000 tons of CAM per year.
Construction has already begun on the new site, which will span 3 million square feet and includes a six-floor building. Once operational, it will create an estimated 345 new jobs in engineering, sales, service, and more, plus opportunities for local students.
"This investment once again shows that Canada is the green strategic partner of choice for world leaders in the automobile industry," said The Honourable François-Philippe Champagne, Minister of Innovation, Science and Industry. "Today, we are helping to further position Quebec as a key hub in the electric vehicle supply chain, as we continue to build our battery ecosystem. This investment is good for the environment and for the economy, and it will ensure well-paying jobs for years to come."
"I am very proud that Quebec has drawn the attention of big players like Ford-EcoProBM-SK On," added François Legault, Premier of Quebec. "After GM-Posco this spring, we are announcing a new major investment of 1.2 billion in the Vallée de la transition énergétique, which will allow for the construction of a new cathode active materials plant in Bécancour. We are building the foundations of an industry that will allow Quebec to become a leader in the green economy in North America and the world. With the energy transition, we have the chance to make a name for ourselves in the new economy, to become richer all while reducing global GHG emissions."