Ford Bolsters Mobile Services to Help Customers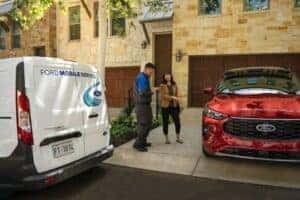 Across the U.S., Ford customers can now reap the benefits of free Pickup & Delivery and expanded mobile services offered by participating dealers, as part of the company's dedication to improving the ownership experience. To that point, the J.D. Power 2022 U.S. Customer Service Index Study showed that customers who use remote vehicle repair are more likely to recommend the brand to friends and family members.
"Customers who've experienced Pickup & Delivery and Mobile Service love the convenience and flexibility," said Todd Rabourn, North America Regional CX Director. "This program increases the access customers have to remote service options, so whether you're due for an oil change or need to resolve a recall, it's easier to have your vehicle serviced with less disruption to your life, and the activities and people you care about."
Ford's mobile services will not be centralized and it will still be the responsibility of dealerships to both offer remote services and to determine which services they will provide at the customer's location. However, the expanded program offers dealers extra support to provide these complimentary remote services.
"We've been working with multiple teams at Ford to offer our customers more ways to personalize vehicle service," said Tim Hovik, National Dealer Council Chairperson. "By expanding the remote experiences offerings, we can accelerate our ability to be there for customers whenever and wherever they need us."
With Pickup & Delivery, a Ford dealer can come to the customer's home or workplace, pick up their vehicle for repair, and return it when the job is done, saving time and minimizing downtime.
For more basic repairs and maintenance, a Mobile Service van with a trained technician can perform the service at a location of the customer's choice. Dealers also have the flexibility to set their own service and mileage limits for each type of remote experience.
According to Rabourn, Ford customers appreciate the time savings and have a higher rate of satisfaction and likelihood to recommend the brand due to the remote experiences program. The program is optional for dealers, and all Ford Service customers can make use of the free Pickup & Delivery and Mobile Service appointments from participating dealers, including retail, fleet, commercial, and government customers.
For all the latest developments From Ford toward ensuring the highest quality services for customers, keep reading our blog at Winner Ford! If you'd like more information about Ford's Pickup and Delivery services, contact our dealership today!