Ford & Automotive Industry Leaders Enterprise Renew Partnership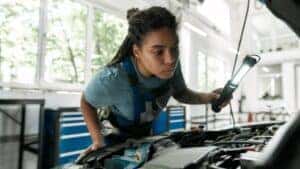 As of January 18th of 2023, Ford announced a partnership with Automotive Industry Leaders Enterprise with a mutual goal–expanding Ford's Collision Engineering Program (CEP) to a new college, which has yet to be announced. The college will become the nation's seventh school to offer a two year apprenticeship and associate's degree in collision repair technology with Ford.
The apprenticeship program and associate's degree, founded by Enterprise Holdings Foundation and Ranken Technical College, receives financial backing from Ford, who offers students scholarships, keeping a lack of funds from becoming a barrier to a student's pursuit of continuing their education.
"As a leader in the automotive industry, we're committed to addressing these challenges with our partners. We could not be more thrilled to expand our longtime partnership with Ford Motor Company, through its philanthropic arm, the Ford Fund, to increase access to the Program and help address this ongoing industry challenge." said Mary Mahoney, vice president at Enterprise Holdings.
Ford's scholarship program takes aim at multiple targets that are often barriers to a student's education, including:
Startup costs like tuition
Equipment such as lab coats, tools, and uniforms
Textbooks
Industry certifications
During their two year apprenticeship, students will split their time between formal classrooms and collision engineering facilities, receiving instruction and guidance from industry experts. The split in traditional schooling offers valuable real world experience.
There is a significant gap between skilled collision repair technicians and open positions–TechForce predicts a need of more than 110,000 skilled technicians by 2026. The Program is currently active in six other schools in the nation, including Ranken Technical College in St. Louis, Missouri, Contra Costa College in San Pablo, California, and Collin College in Allen, Texas, among others. The seventh school joining the force will be announced in the coming months.
For the latest details about Ford's industry-shaking partnerships and community involvement, feel free to contact Winner in Cherry Hill! Our sales, service, and financial teams are dedicated to supporting all your automotive needs.