Ford and RheinEnergie Work to Increase Solar Power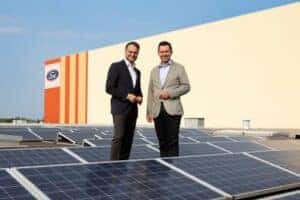 Ford's dedication to improving sustainability in their worldwide operations has been easy to see in recent years, and in Europe, it's recently taken another step in the right direction. In this latest eco-friendly development, Ford of Europe is collaborating with German energy provider RheinEnergie. Together, the organizations are signing a Memorandum of Understanding in regards to Ford's Road to Better plan, intended to help to develop an action plan for work towards climate protection by Ford and RheinEnergie.
This memorandum goes into detail about plans to increase the sustainability of Ford's production and supply chain, including tripling the performance of Ford's solar panel system and increasing the efficiency of the company's production processes and lighting at their facility in Cologne, Germany.
The roof of Ford's Central European Spare Parts Warehouse in Merkenich, Cologne is covered with a system of solar panels, and with RheinEnergie's help, these panels will have their capacity increased to 3.76 MWp, an amount equal to the electricity that about 1,100 homes would use in a year. Scheduled to be completed in the middle of 2024, the upgrade will supply roughly 6% of the electricity that the Ford facilities in Merkenich require.
On top of the solar panel expansion, Ford will also be contributing to the expansion of windfarms in the area, for which two potential sites have already been identified by RheinEnergie. These windfarms will supply power to nearby Ford sites and surrounding residences as well.
"Ford is totally committed to freedom of movement that goes hand-in-hand with looking after the planet. Through RheinEnergie, we already source all electricity requirements for our locations in Cologne from renewable energy sources. Now, we are working together to ensure that this electricity will be produced more locally in the future," said Martin Sander, general manager, Ford Model e, Europe.
"We all have the same goal: to make Cologne climate neutral by 2035. We can only achieve this ambitious goal if we develop and implement concrete solutions with the large companies in Cologne," said Andreas Feicht, CEO of RheinEnergie. "Together with Ford, we are working on more energy-efficient production processes and gradually decarbonising the heat supply at the Cologne site. Regional green electricity is essential to make domestic car production as a whole more efficient and sustainable."
Achieving carbon neutrality is a tall order, but as Ford continues to make developments and strides in this direction, the goal becomes closer to becoming a reality. If you're interested in learning more about Ford's eco-friendly efforts in Europe and in America, make sure you continue reading our blog!