The 2024 Ford Ranger Raptor Enters the Scene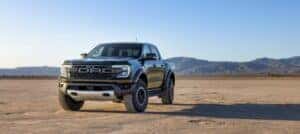 The Ford Raptor family, with vehicles like the F-150 Raptor, the F-150 Raptor R, and the Bronco Raptor, is known for truly unstoppable power and capability, and now this distinguished group is gaining a new member: the new 2024 Ranger Raptor. Ready to conquer the most punishing terrain, this truck will be available in the 2024 model year.
The Ranger Raptor is remarkable for many reasons, one of them being its purpose-built suspension, with lightweight aluminum upper and lower control arms and a long-travel rear suspension with a Watts linkage and trailing arms. This setup, designed to provide Ranger Raptor drivers with exceptional control and confidence, is paired with next-generation FOX 2.5-inch Live Valve Internal Bypass shocks with coil-overs at the front and piggyback reservoirs at the rear. This setup minimizes heat build-up so that the truck can continue to perform on long drives. The Ranger Raptor also features a fully boxed frame with reinforcements in key areas like the front frame rails, front shock towers, rear shock brackets, and suspension mounting points.
The 2024 Ranger Raptor is powered by a Ford Performance tuned twin-turbo 3.0-liter EcoBoost V6 engine, which delivers an impressive 430 lb.-ft. of torque and a best-in-class maximum available horsepower of 405 hp. Not only is this truck capable of performing over a variety of trail conditions, but it's the most powerful Ranger ever built.
The Ranger Raptor also includes trail-ready technology, with features like selectable drive modes that control the tuning of the engine as well as traction control and throttle response to provide more control in difficult off-road conditions, and a 360-Degree Camera that increases safety and makes it easier to navigate the terrain ahead.
"Ranger Raptor is the high-performance off-road truck so many customers have been begging for," said Carl Widmann, Ford Performance chief engineer. "It's right-sized for tight trails and daily life, can carry lots of gear, and is a blast to drive. Ranger Raptor is fast, comfortable, and packed with top-shelf, purposeful technology that's designed to perform. This is the baddest Ranger we've ever made."
Interested in trying the 2024 Ranger Raptor for yourself and seeing how it can take you far beyond the edges of the map? The truck will become available late this summer for the 2024 model year! Until then, you can browse through our other available Ford vehicles in our online inventory.