2023 Super Duty Smart Features Inspired by Fighter Jets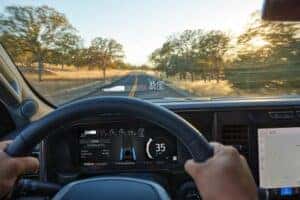 It takes both brains and brawn to work with efficiency and capability. With best-in-class engines that produce incredible horsepower and towing capabilities, the 2023 Ford Super Duty provides brawn in ample supply, but this powerful truck is not just pure muscle. The 2023 Super Duty is loaded bumper-to-bumper with innovative tech features and solutions to make it easier to power through a day's work, and with the convenience they offer you, you'll wonder how you ever got along without them.
"This truck represents the pinnacle of BUILT FORD TOUGH strength and capability, now with advanced technology that makes towing and hauling even easier and businesses more productive," said Tim Baughman, General Manager of Ford Pro in North America. "Whether you are towing a boat for weekend family fun, operating a boom lift to fix powerlines, or hauling heavy loads while navigating hills and tough terrain, the all-new 2023 Super Duty not only tackles the task with ease, but its smart connectivity will surprise our customers with ingenious new solutions to transform their truck experience."
One of the most powerful features of the truck is an all-new Head-Up Display inspired by fighter jet planes. This system provides both convenience and safety by projecting vital information directly into a driver's line of vision on the lower half of the windshield, allowing them to stay informed without taking their hands off the wheel or their eyes off the road.
"We wanted to create an amazing digital experience for our most-focused truck customers, and our research led us to look at aircraft HUD concepts because of their task-oriented hierarchal structures," said Mark Sich, Ford digital design manager. "But because pilots are trained to read information in a very prescribed and technical manner, our implementation needed the interaction to be more intuitive for the driver to immediately understand the context of the information being presented."
Three views are available for the Head-Up Display: Normal Mode, Tow-Haul Mode or Off-Road Mode. These options allow drivers to prioritize what information they're receiving. Normal Mode, for instance, displays speed, speed limit and navigation prompts, while Tow-Haul Mode displays tachometer, gear and trailer brake output and Off-Road Mode shows tachometer, drive line status and vehicle pitch and roll updates.
The 2023 Super Duty is currently available, and whether you need muscle at the jobsite or help towing campers for fun weekends away, the truck is ready to work hard and play hard right alongside you. Check out our available inventory here at Winner Ford in Cherry Hill, NJ to see the Super Duty options we have available!