2023 Ford Mustang Mach-E Orders: Reopened!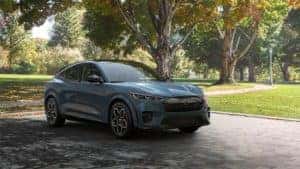 Via a recent press release, Ford has officially reopened order banks for the 2023 Mustang Mach-E. The reopening comes after Ford shut down orders for the 2022 Mach-E back in April due to supply shortages and extreme demand they didn't quite anticipate. This excellent news for customers who didn't get a 2022 model also includes some important caveats, however: The 2023 models arrive with cutting-edge new options and a longer-range Premium model, and higher prices across the lineup.
To offset the steeper prices a bit, Ford is also adding some improvements. Premium all-wheel drive models configured with the Extended Range battery will now reach an EPA-estimated range of 290 miles, 13 miles more than before. Additionally, the Co-Pilot 360 driver assist package as a standard suite of features for every new Mustang Mach-E. Co-Pilot 360 supports drivers with innovative safety features, like the latest pre-collision assist capability, blind-spot monitoring, lane keeping, and auto high-beams. The Mach-E's Select trim edition will get access to a 90-day trial period of BlueCruise hands-free driving, but customers will need to pay to enable it beyond that trial.
"Adding Ford Co-Pilot360 Driver Assist Technology to the entire Mustang Mach-E line up gives more customers access to services like BlueCruise hands-free driving and future ADAS services through Ford Power-Up software updates," Marin Gjaja, chief customer officer, Model e, said. "We're sharing these changes ahead of reopening order banks on Tuesday so customers can understand the feature and pricing adjustments around ordering a Mustang Mach-E."
To top it all off, Premium editions and GT Performance Editions of the Mach-E that come with the Extended Range Battery can arrive with the new Nite Pony Package, which includes high-gloss black 19-inch wheels and a black Pony, black front and rear lower fascia, door cladding, and black mirror caps on the grille to set the Premium apart, while the GT Performance Edition adds 20-inch high-gloss black wheels and black GT badge. Notably, customers can pair any Mustang Mach-E exterior color with the Nite Pony Package.
It's clear that Ford is dedicated to its electrification efforts toward making a lasting mark in EV production worldwide. Recently, it announced initiatives for sourcing battery capacity and raw materials to reach its targeted annual run rate of 600,000 EVs by late 2023 and more than 2 million EVs by the end of 2026.
There's no stopping the electrifying EV revolution! Keep reading at Winner Ford in Cherry Hill for the latest news about all of Ford's innovative all-electric advancements. If you have any questions, or you just want to set up a test drive for a great all-electric or hybrid vehicle, contact us today!