2023 Ford F-Series Super Duty: New Model Delivers Innovative Capabilities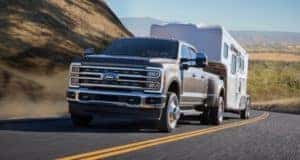 Ford recently unveiled more details on the new 2023 F-Series Super Duty pickup. With new features like 5G connectivity, an on-board Wi-Fi network, and convenient generator-like capabilities, the Super Duty can now power your home or small worksite in the event of an outage, raising the bar for productivity everywhere.
The Super Duty series has long been devoted to supporting quality work, and the new models achieve this goal in spades. With four engine options and the highest towing capability of any American heavy-duty trucks, including the extreme 6.8-liter V8 or 6.7-liter PowerStroke diesel motors, tech and raw power are combined for incredible performance in the new lineup.
"From F-250 pickup to the F-600 utility truck, Super Duty is the badge America's hardest-working men and women have come to trust to get the toughest jobs done," said Ford's president and CEO, Jim Farley. "Super Duty customers are builders – the backbone of our communities and our economy. We poured every ounce of know-how and ingenuity we have into developing the truck of their dreams – smarter, more powerful, full of clever features and technology."
To better support trailer hauling, Ford's innovative mapping system can even select the safest route to take based on trailer size. What's more, the heavy-duty lineup arrives with trailer cameras to make hooking up trailers easier than ever. Super Duty trucks also now have the capabilities to back up and hook onto trailers autonomously with the Pro Trailer Hitch Assist feature.
"Our goal was to leave drivers with zero blind spots, even when towing the longest trailers," said Andrew Kernahan, Ford Super Duty chief engineer. "Camera views provide every angle, from simulating a drone to making sure customers can see behind the truck even when the tailgate is down. Hitching and towing has never been easier."
To give more options for fleet managers, the new Super Duty pickup now offers powerful management systems too. For instance, Fleet Start Inhibit enables managers to schedule time frames of when a vehicle can be started, making operations smoother. Ford Pro Telematics will also send notifications when maintenance is required and provides details on driver behaviors (such as average speeds), idle times, and vehicle locations.
Built in Kentucky, the state's Governor Andy Bershear chose to honor the truck's fundamental presence in the state by declaring Sept. 27, 2022 to officially be "KenTRUCKy," a day for state residents to celebrate the popularity and reliability of Super Duty pickups. To celebrate, those working in the Kentucky plant spent the day commemorating both the reveal of the new truck and the symbiotic relationship between the vehicles and the state's industries.
For all the latest information on Ford's new heavy-duty pickups, stay turned at Winner Ford in Cherry Hill. If you have any questions about the 2023 Ford F-Series Super Duty, or you just want to set up a test drive with any of our great Ford pickups, don't hesitate to contact us today!