2022 Ford F-150 Lightning Pickup Begins Production On April 26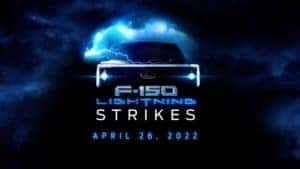 The new 2022 Ford F-150 Lightning started initial development last fall, but Ford recently reported that, on April 26, the first consumer-available models of the powerful all-electric pickup will become available. Production of the F-150 Lightning is operating out of Ford's Rouge plant in Dearborn, Michigan, the same location that has been developing Ford pickups since way back in 1948. Additionally, it's also where Henry Ford optimized the moving assembly line and improved the Model T.
For premium performance, the F-150 Lightning uses batteries developed by the Rawsonville Components Plant, and the electric drive units created by the Van Dyke Electric Powertrain Center. Both locations are also based in Michigan and not terribly far from the Rouge plant.
The F-150 Lightning's price was surprising and has sent enthusiasts on a buying spree. Ford has over 200,000 for the F-150 Lighting, the company has invested millions more and added hundreds of new jobs at the Rouge factory to increase production capacity to 150,000 units a year, which is almost four times beyond the original production number.
The F-150 Lightning arrives with standard four-wheel drive for every model. IT also features two electric motors powered by a liquid-cooled lithium-ion battery setup for a silent-but-powerful 426 hp with a standard-range battery.
You can also get the 563 hp option with a long-range unit. Both models offer a peak torque of 775 lb-ft, and pickups with the normal-range battery have an EPA-estimated range of 230 miles. The extended-range battery editions improve the estimate to 320 miles. Four distinct models are currently offered, including a commercial-focused work pickup and the regular XLT, Lariat, and Platinum editions.
To learn more about the F-150 Lightning or any of our great Ford pickups, don't hesitate to contact Winner Ford in Cherry Hilly today!