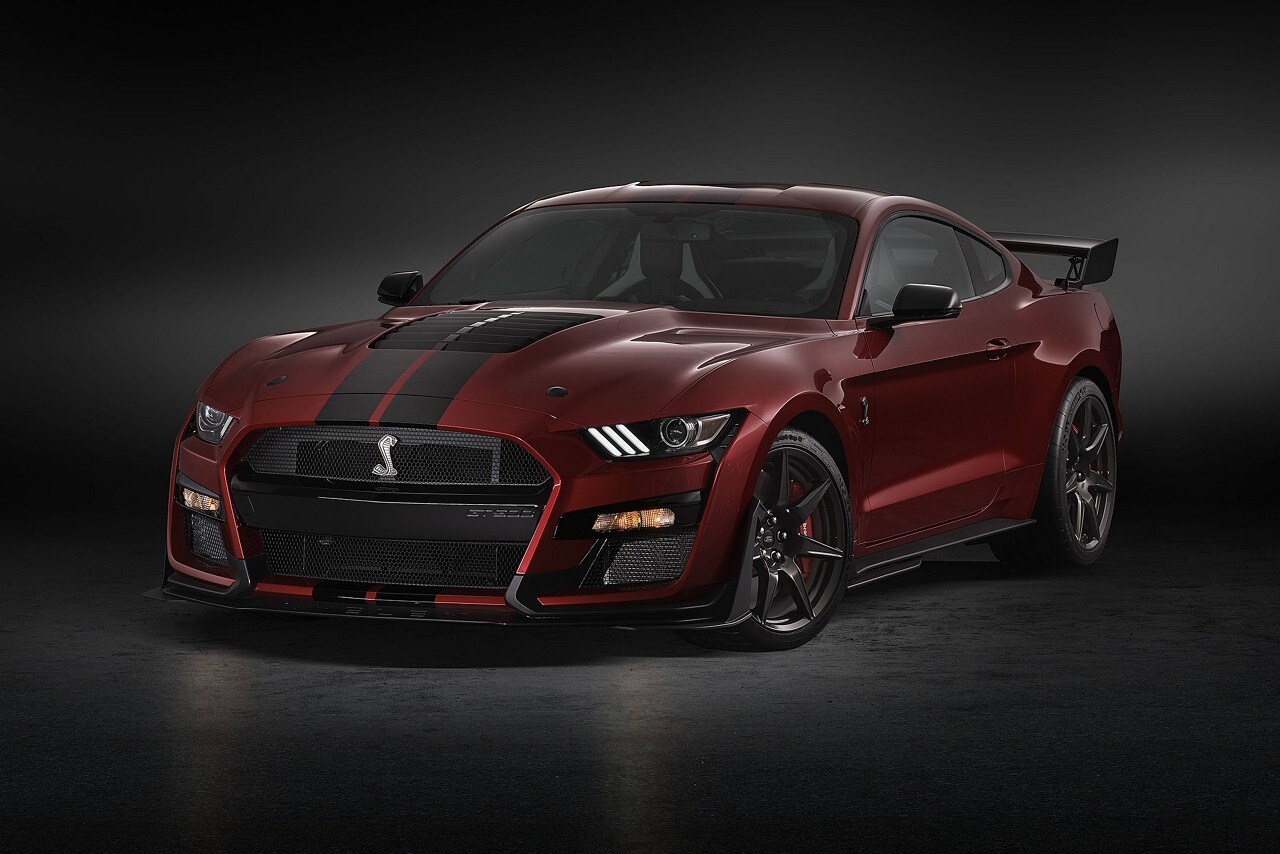 This Fall, Ford is set to release its most ambitious Mustang yet, the 2020 Shelby Mustang 500GT. Ford's latest entry in the prestigious history of the Mustang will be capable of over 700 horsepower, making it the quickest accelerating street-legal Mustang ever made.
Under the hood, the new Shelby GT500 will house a supercharged 5.2 liter V8 engine, allowing it to accelerate from 0 to 100 mph in 6.7 seconds, a full 2 seconds faster than its predecessor, the Shelby GT350.
To harness its incredible power, the GT500 requires race-quality chassis technology and a TREMEC® 7-speed dual-clutch transmission, allowing the machine to shift smoothly and quickly on all driving surfaces.
In addition, the GT500 features a next-generation MagneRide™ suspension system (another improvement over the GT350) and new drive mode technologies finely tuned by Ford Performance.
Aerodynamically, the Shelby GT500 will be unmatched. Building off of the aerodynamic improvements made by the GT350, the GT500 will come standard with wider front fenders and a wider stance allowing space for custom 20x11-inch front wheels which perfectly align with its 20x11.5-inch rear wheel setup. The GT500 also features a new rear spoiler and an updated rear diffuser.
Additionally, Ford has more than doubled the number of front fascia openings compared to the number included on the Shelby GT350 and added a 31x28-inch louvered hood vent in order to achieve better air extraction and increased downforce.
The new GT500 will be available in new colors Rapid Red, Twister Orange and Iconic Silver. Of course, racing stripes are also available.
Like its exterior design, the interior of the GT500 is inspired by Ford racing and includes embellishments and design aspects worthy of its iconic heritage. The premium interior package includes an available carbon fiber instrument panel and new door panel inserts in Dark Slate Miko® suede complete with accent stitching.
For those seeking the authentic racing experience, Recaro racing seats will be available. Those who prefer greater comfort can also order power-adjustable seats with Miko suede inserts.
The 2020 Ford Mustang Shelby GT500 will start at around $73,995 and will be available this Fall.